Time-honored come-together events, and more about Netcong that you may not know
Founded in 1894, Netcong took its name from the "Musconetcong" River — meaning "grass creek," "swamp stream," "rapid stream" or "clear stream place" in the language of the Delaware River Lenape Native Americans who lived in New Jersey, Pennsylvania and parts of New York State from time immemorial through the 1700s. The Lenape were known for a strong sense of tradition and peaceful ways, which typify Netcong today, along with a canal lock and tow path from the old Morris Canal that are still visible on the shore of the lake.
Main Street circa 1908, looking west toward Lake Musconetcong
As a welcoming walking town and the home of many multi-generation households that fan out from scenic Lake Muscanetcong, Netcong offers home-style living at it simplest and best.
Borough-sponsored come-together community events span the entire year, with Netcong Day marking the passage from summer to fall in early September.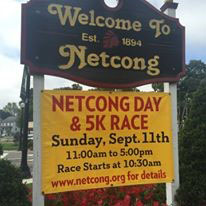 Held on a Saturday, the all-day happening centers on a 5K race sanctioned by USA Track&Field that attracts as many as 250-400 runners and walkers from the tri-state area and as far away as Virginia.
The race and fun run begin at 10:30 a.m.; the street festival starts at 11 a.m with music and food up and down Main Street, where runners and walkers pass through cheering supporters who also greet them along the route around Lake Musconetcong.
Three more distinctively Netcong events are summer-long concerts in the Park on Friday nights and the Feast of the Assumption and St. Cesario Festival.
Summertime Concerts in the Park
a 10-Year tradition, from mid-June through the end of August
"Come by Di Renzo Park and listen to some great musicians from 7-9 p.m. We provide some of the best entertainment around!" said Sharon Still, a life-long Netcong resident and member of the Netcong Community Partnership Recreation Committee that sponsors the program. "At our family night near the start of the season, we have a magician, and our "color in the park contest" has become an annual favorite," she said. A special celebration on July 4th features two bands, starting family-time, at 4:00 p.m.
OLD-WORLD PARADES AND FIREWORKS FESTIVALS
Annual Feast of the Assumption and St. Cesario's Festival are 100+Year Traditions
The Feast of the Assumption and St. Cesario's Festival are something Netcong is known for, remarked a member of the Netcong Community Partnership Board of Trustees. Both start the same way.
"On Saturday morning at 7 a.m. fireworks go off, then there's another boom at 7:30. You can hear them all over town, and in surrounding communities. Later in the morning, there's a Catholic Mass and a parade through town. Fireworks abound all day, with a full fireworks show in Arbolino Park at 11 p.m. that concludes the festival," said Ms. Von Hagen.
YEAR-ROUND TOWN-WIDE HAPPENINGS
The Netcong Recreation Commission provides\Borough residents and visitors with diverse recreational, cultural, and leisure and celebratory opportunities for all ages, all year long.
Community Trips
to Broadway Shows
Be Broadway bound
Several times throughout the year the Netcong Community Partnership Recreation Committee host Broadway bus trips. "This August 100 residents and out-of-town guests went to see beautiful Carole King Story, our first event ever hosting two buses! We are hoping to include Cirque du Soleil in mid-November," said Ms. Still.
Holiday Parade
and Town Tree Lighting
"Over the past few years our holiday parade has grown to approximately 30 floats, with marchers, fire trucks and other hugely awesome emergency vehicles, and Santa, who arrives to light our tree and have a photo session with hot chocolate and cookies or children of all ages," said Ms. Still.
Trunk or Treat
for Halloween
Netcong hosts host a "Trunk or Treat" for Halloween every year at the Netcong Train Station the Saturday before October 31. Families decorate their vehiclesin order to enter our contest for best decorated vehicle, said Ms. Still.  Children and adults come in costume, to trick or treat at each trunk. To entertain them, the Commission showcases local performers and organizes a costume contest with hot pretzels, hot dogs, hot cider, and sweets for everyone, free of charge, with the help of the Netcong PTA and the Morris County Municipal Alliance
COMMUNITY-WIDE
ACTIVE PROGRAMS
New health and wellness "active" programs have been added to the Recreation Committee's roster of community opportunities, such as a free head and neck "Massage Under the Stars" set to relaxing music at our Friday-night summer concerts.
Fascinating facts about Netcong that you may not know
Netcong is a New Jersey
Transit Village
You can walk pretty much wherever you need to go
NCP market report p. 4:
Netcong is a designated New Jersey Transit Village – a place where intertwined commercial and residential properties make for a mixed-use community providing foot traffic and a neighborhood feel.
In addition, Netcong has been selected for transit-oriented development (TOD) to enhance its pedestrian-friendly neighborhoods for residents and visitors to shop work and play without relying on automobiles.
Netcong is a
Go-to Restaurant Scene
There is no wrong choice, all are one-of-a-kind, and reasonable
Depending on who's counting, Netcong offers as many as nineteen outstanding places to dine, and not one of them is a chain, although there is a handy Dunkin Donuts at the entrance to town on Route 46.
Netcong is a Go-To Restaurant Scene
There is no wrong choice, all are one-of-a-kind, and reasonable
Before or after a show at The Growing Stage, the dining options are endless.
As of Spring 2016, as many as nineteen outstanding places to dine — not one of them a chain except for the handy Dunkin Donuts at the entrance to town on Route 46.
"One of the amazing things about Netcong — there's not a bad restaurant in town," said a Netcong aficionado. "So there's no wrong decision. Whether you want a quick bite to eat or you want a sit-down, there are multiple options, and they are all reasonable."
Carmine's might be Netcong's oldest restaurant. "One snowy day this past winter I walked downtown and got a picture of old Carmine shoveling with his sons, who now run the business with him. It must have gotten 80 Facebook likes and 30 comments, like "Carmine's gave me my first job." And "I wish they could ship to Florida," "every time I go back I have to stop in."
A host of great restaurants and food markets represent the burgeoning Netcong Latino community. "At a little market called La Tienda they have all sorts of food, friendly owners, and they're there all the time. If you really want something you remember having in Guatemala they'll say "Oh, we'll get that for you.," said Ms. Von Hagen. Two of our pizzerias that may sound Italian are actually Latino-owned — Franco's' and Johnny Jr's. "They are delicious. Johnny Junior's pizza crust is to die for," she continued. "They add panko bread crumbs underneath the crust that creates a thin crunchiness that is just fantastic." Then Franco's has a whole Spanish menu. And there's the delicatessen where they have wonderful bagels, also empanadas that you can't tell from the name of the store "Delicious Bagel." It's a really friendly place." You need to go in and explore the menus, she said.
The Netcong Shop Rite is Just Right
What is the Netcong Shop Rite like?
"It's great," said Ms. Von Hagen.
"First off, you can walk or bike from where you live to get your groceries. Not everybody has a vehicle; there's a lot of seniors who can't drive or rely on a ride whenever they need one, but they can walk to the Shop Rite. We have a lot of walkers."
"Another thing is, some grocery stores can be so big it's like walking two football fields just to get to the milk aisle; in Netcong, you can get everything you need without going through aisles of stuff you don't need."
The Netcong Shop Rite is situated within a block of the train station and busy every day. In addition, the nearby Netcong Quick Chek is open 24/7 with a steady stream of customers stopping in for food, drinks or liquor.