a unique Tri-State Destination Point
The Growing Stage theatre for children saw as many as 25,000 people pass through its doors last season.
According to founder and Executive Director Stephen L. Fredericks, the 30-year-old company and its historic venue "bring families to Netcong that might not otherwise travel down our Main Street or Routes 183 or 46."
Located in the center of town, The Growing Stage is the only professional theater in New Jersey that is dedicated to young people and their families and has its own facility. "It's adults performing for young people. That's the focus. That's what's unique," he says.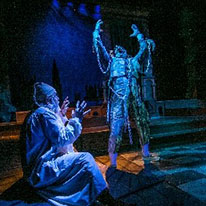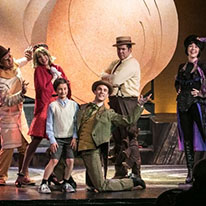 JAMES & THE GIANT PEACH (left) and A CHRISTMAS CAROL, THE MUSICAL were among five Main Stage presentations of The Growing Stage's Main Stage Season, 2015-2016.
Photo credit: Jerry Dalia
Renovated Vaudeville and Silent Film Venue is County, State and National Landmark
Mr. Fredericks purchased the Palace Theater on behalf of the company in 1995 for $100K, as is, and went on to raise and invest back nearly $3 million into the facility.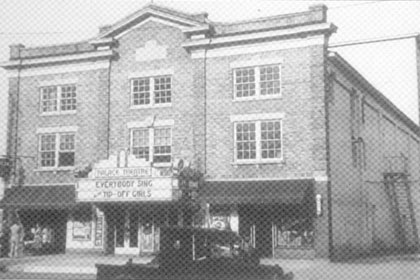 The Palace Theater in the 1930s, and renovated, in 2012.
"The building that was on the let-it-burn list of the local fire department is now registered as a historic place in Morris County and the State of New Jersey, and is on the National Register of Historic Places."
Stephen L. Fredericks, Founder and Executive Director
Retrospective Exhibit and Guided Tour
On permanent display on the 2nd floor art gallery where balcony seating once was, is a retrospective of the facility's history that was created for the Growing Stage by the Lake Hopatcong Historical Society.
The exhibit doesn't take much more than a half hour to take it in, Mr. Fredericks said. And a tour of the building will begin soon, during the 2016-2017 season.
Mission Focuses on Opportunities for Aspiring Children
"An integral part of The Growing Stage's mission is that we not only present quality, professional productions for young people and their families, but that we provide young people aspiring to act with the unique opportunity to work alongside professional adult artists that are members of the Association of Actor's Equity," Mr. Fredericks said. "The Growing Stage is only one of a handful in the nation."
The work of the company and Mr. Fredericks was recognized by the prestigious Sara Spencer Award for the American Alliance for Theatre & Education in 2008 for making a significant contribution in theatre for young audiences.
New Play-Reading Festival Attracts International Attention
Launched 2013, The Growing Stage's Play Reading Festival attracts over 150 submissions annually from around the world.
Last year saw the world premiere of The Book of D, which won The Growing Stage's best-entry Laurie Award for 2015. The production featured Sean Cahill, a young performer from Netcong, who starred in the piece alongside a professional cast of adults.
To get on The Growing Stage mailing list, visit www.growingstage.com